Night Guards

Richmond, VA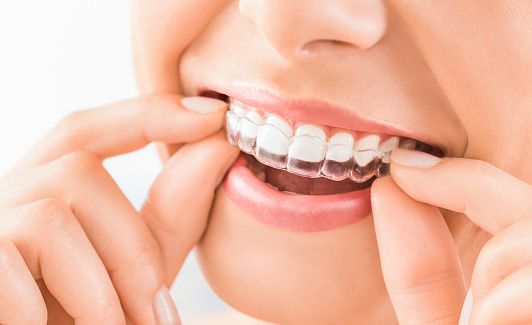 Long-term bruxism leads to a broken tooth, tooth sensitivity, or tooth loss. Here at Riverwind Dental, we believe that using a mouthguard is one of the most effective ways to treat bruxism. The mouthguard is custom-fitted to ensure comfort and effectiveness.

Bruxism is one of the most common dental problems, and it is not just painful, but can easily destroy your teeth. For most people, the symptoms are experienced during sleep, where the victim grinds or clenches their teeth involuntarily.

One of the best ways to correct this problem is by using night mouthguards. Our dental professionals provide you with a custom-fitted mouthguard that prevents your teeth from grinding while you are asleep.


What are the Effects of Bruxism?

This condition needs to be treated early before extensive damage is visited upon your teeth. Teeth grinding can lead to the wearing of the surface of your teeth, thus causing sensitivity, shifting teeth, or even tooth loss.

If you have bruxism, you are also likely to experience morning headaches. This can destabilize your mood and cause you to become irritable. Constant headaches might also cause you to lose focus. The condition hurts the jawbone. Your jawbone is subjected to pressure throughout the night and it can increase the likelihood of developing temporomandibular disorders.

Clenching or grinding your teeth throughout the night usually exerts a strain on the facial muscles. And so, you might find yourself experiencing pain in different parts of your face during the day. The condition can also cause fatigue, making you less motivated.


How Night Mouthguards Treat Bruxism

Night mouthguards are one of the best remedies for bruxism. They solve the problem by preventing your upper teeth from coming into contact with your lower teeth during the night.

Our dental professionals can help you overcome this condition by preparing a custom-fitted night mouthguard. It fits comfortably in your mouth, so you won't have to bite it to keep it in the right position.

There are no risks associated with night mouthguards. They are a non-invasive way of treating bruxism and sleep apnea. But then you have to keep the mouthguard clean because if you allow it to sit and collect bacteria, the bacteria will get introduced in your mouth.

There are also limits on how many times you can use the same night mouthguard without replacing it. How often you replace it is determined by the type of mouthguard that you use. Our dental specialists recommend that you get a new night mouthguard every couple of months.


Benefits of Night Mouthguards

Considering the negative effects of prolonged teeth grinding, night mouthguards play an essential role in promoting overall health. The following are some of the benefits of night mouthguards


Saves You Money

Prolonged bruxism usually results in severe dental problems like tooth loss. When you have a serious dental issue, getting a restorative procedure is far more expensive than it would have been to buy a custom-fitted night mouthguard.


Healthy Sleep

People who have bruxism usually struggle to get quality sleep. And once they wake up, the headache and exhaustion usually mess up their day, affecting their productivity. Night mouthguards improve sleep quality and promote happiness.

If you experience teeth grinding during the night, you can solve this problem by using night mouthguards. Riverwind Dental is here for all of your custom-fitted night mouthguards needs. Contact us at (804) 280-0853 today!