Oral Cancer Screenings

Richmond, VA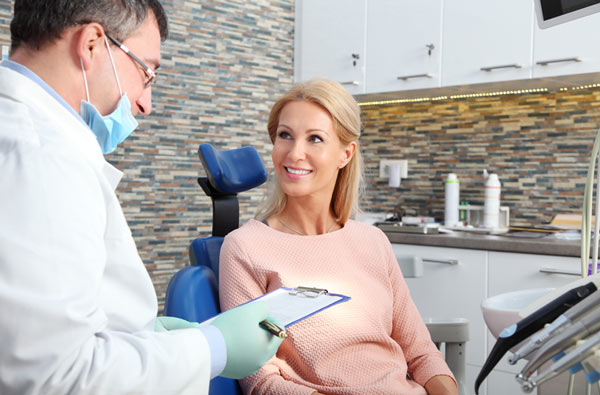 Oral cancer can be easily treated if diagnosed early and at Riverwind Dental, we take oral cancer screening very seriously as it does more than just affect the throat. The condition usually affects the lips, tongue, cheeks, and throat. Thousands of Americans die from this condition each year.

It's one of a group of cancers that affect both the neck and head, and in most cases, oral cancer begins in the mouth and throat. Our dental specialists can help you overcome oral cancer because they help you detect the symptoms early.
Just like most other cancers, oral cancer affects a person in stages. Once the disease is diagnosed, you may have to undergo certain exams to find out the stage of your cancer. In the early stages, there's only a tumor in your mouth, but as the disease advances, the tumors spread to the lymph nodes and the entire body.


Who Has the Highest Risk of Developing Oral Cancer?

Scientists have not done conclusive research as to what causes oral cancer. But some factors increase your likelihood of coming down with the illness. For instance, heavy smokers and alcoholics are far more likely to develop this condition than the average person.

If your family has a history of oral cancer, you have a higher risk of developing the condition than people who don't have a family history of oral cancer. Human Papillomavirus can also increase the risk of oral cancer.

Additionally, exposing yourself to excessive sunlight can heighten your risk of developing lip sores that turn into cancer. Always wear sunscreen when you go out to protect your skin from damage.


Early Diagnosis is Essential

Diagnosing oral cancer early helps you to fight off the disease using the least resources. Discovering oral cancer at an advanced stage is not only expensive to treat, but there's a high risk of loss of life.

Some of the earliest signs of oral cancer include lip or mouth sores, and oral pain. If you have a habit of seeing our dental specialists regularly, the disease is likely to be discovered in the early stage, thus saving you huge medical bills and your life.


What are The Symptoms of Oral Cancer?

Lumps and rough spots in your mouth are some of the early symptoms of oral cancer. Initially, they are painless, but the pain comes with time, especially when you chew food. As the disease advances, there are red patches formed in the mouth.

Some people also experience unexplained bleeding, numbness, and tenderness in their mouths. The disease makes it hard to chew food, causes chronic sore throat, and leads to dramatic weight loss.


Oral Cancer Screening

Our dental specialists typically perform an oral cancer screening during routine exams. The tests involve checking your mouth carefully to see whether you have any symptoms of oral cancer. If oral cancer is detected, our dental specialists recommend the best treatment.

There's an 84% survival rate from the early diagnosis of oral and pharyngeal cancer. But if the cancer is allowed to spread to surrounding tissues and organs, the survival rate drops to 65%.

Oral cancer claims thousands of lives every year. The best way to fight it off is by getting regular dental exams. Contact Riverwind Dental at (804) 280-0853 today to schedule an appointment for an in-depth screening.