Mini Dental Implant

Richmond,VA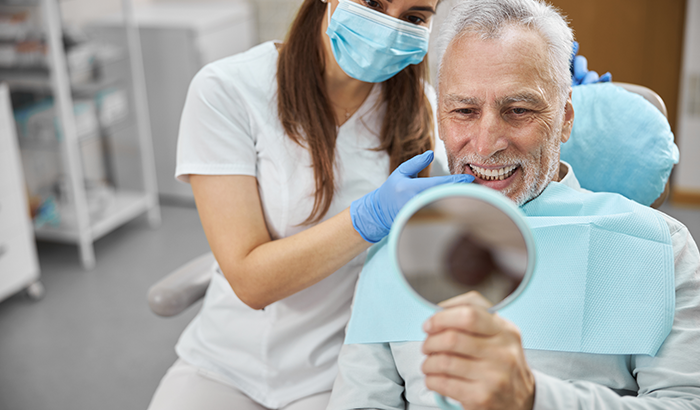 Dental implants are recognized as one of the most effective procedures to replace a missing tooth. They have a strong foundation for the placement of artificial teeth and do not slip or shift during speaking or chewing. Dental implants fill the gap left by missing tooth roots, which is why they provide the proper stimulation to the jawbone, thus preventing its deterioration and resorption.


Mini Dental Implants

When a person doesn't have enough bone mass to hold regular dental implants, they can receive mini implants, which are smaller in size and thickness than regular implants. Mini dental implants have a thickness similar to that of a toothpick, while regular dental implants are almost 3.4 to 5.5 mm in diameter. Mini dental implants can be used to replace smaller teeth and do not require screws or abutments for the placement of artificial teeth. They contain a ball-shaped end that extends from the jawbone.


Why Use Mini Dental Implants?

Mini dental implants are used in place of regular implants in the following cases:
• When a person cannot or is not willing to undergo the highly invasive surgery of traditional dental implants.
• When a person is not ready to dedicate several months to the regular implant procedure.
• When the jawbone doesn't have enough mass to hold a full-size dental implant.


Which Is Better Mini Dental Implants vs. Regular Dental Implants?

Mini dental implants require less bone to fuse with. They are placed using a less invasive technique than regular implants, which is why it takes less time to complete the procedure. Usually, a dentist can place mini dental implants in one visit, which differs from the several months it takes for the jawbone to heal from the regular dental implant surgery. Mini dental implants are less costly than regular implants. However, the success ratio of mini implants is also less than that of regular implants. Small dental implants are not as durable and strong as regular implants, and they might require replacement sooner than full-size dental implants. They also cannot be used in areas having little vertical bone and are not recommended for people who grind their teeth.


Can You Put a Dental Crown on a Mini Implant?

After the mini dental implants are placed in the jawbone and allowed to fuse, a dental crown is then loaded on the screw, just like regular implants. Mini dental implants are also used to support complete or partial dentures in compromised edentulous spaces.


Mini Dental Implant vs. Dental Bridge and Denture

Mini dental implants work like regular implants to replace a tooth without affecting the health of adjacent teeth. Dental bridges need grinding down of adjacent teeth to secure the bridge on top of them, and a three-unit dental bridge is bonded onto those adjacent teeth. A denture, on the other hand, will not usually require grinding down of teeth, but they are nowhere as comfortable and stable as dental implants. Our dental professionals at Riverwind Dental, Dr. T. James Dix and Lori Ha, DDS , can help you decide which type of implants will be the most suitable for a safe and healthy tooth replacement. Contact us at (804) 280-0853 to schedule an appointment.