Dental Crown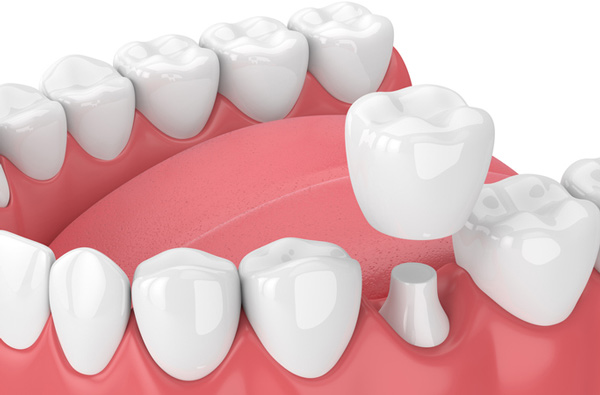 Dental crowns are typically used to restore the strength, shape, and size of a weak tooth and Riverwind Dental is here to help you understand how important these crowns truly are.


The Procedure of Dental Crown Placement

Dental crown procedures are typically performed over two sessions. The first session involves taking radiographs, examining the state of your tooth, noting down the history. Our dental specialists conduct an assessment and tell you whether this procedure is appropriate.

Your tooth is prepared by getting filed down, to smoothen out the enamel. An impression of your tooth is taken, focusing on the tooth in question, and the adjacent teeth. Taking an impression of your tooth ensures that your crown won't distort your teeth alignment.

The impression of your tooth is sent to the dental laboratory for fabrication. But you'll need a temporary dental crown to safeguard your vulnerable tooth. The temporary dental crown is made of either resin or acrylic and it is fixed onto your tooth with a type of cement.

Once your regular dental crown is fabricated, you go in for another session with our dental specialists, and the temporary dental crown is removed, and then your regular dental crown is fitted into your tooth. Small alterations might be necessary if you're not comfortable.

Once you confirm that you are happy with how the crown fits it is now secured tightly with dental cement.


How Long Do Dental Crowns Last?

When looking for a dental restoration, you want something that can last long. Our dental professionals perform the dental crown procedure so perfectly, and as long as you maintain it and observe good oral health it can last you for a lifetime.
However, various factors can lead to the deterioration of a dental crown. If you undergo regular dental checkups, and it is determined that your dental crown is wasting away, then it may have to be replaced.


Types of Dental Crowns

Our dental professionals help you understand the different materials that dental crowns are made of and how each of them may suit your needs. Your choice of dental crown is affected by various factors: cost, the severity of the problem, and where the tooth is located.


Metal Crowns

They are typically metal alloys ranging from gold, steel, palladium, nickel, chromium, platinum, and cobalt. Metal crowns are strong and durable. They are not particularly visually appealing, and they are ideal for back tooth restorations.


Ceramic and Porcelain Crowns

They have a close resemblance to natural teeth, thus ideal for front restoration. Ceramic and porcelain crowns can be also shaded to match the color of your natural teeth.


Porcelain Metal Crowns

These dental crowns are typically made of precious metals, but they have a porcelain overlay. They have a resemblance to natural teeth, and they are strong and durable. Porcelain metal crowns usually have the greatest cosmetic appeal.

Dental crowns can help you salvage your weak teeth. In certain cases, we could also recommend Inlays and Onlays. We have many options for our patients! Come see Riverwind Dental to learn more about dental crowns. You can also call us at (804) 280-0853 to setup an appointment.