Multiple Tooth Implant

Richmond, VA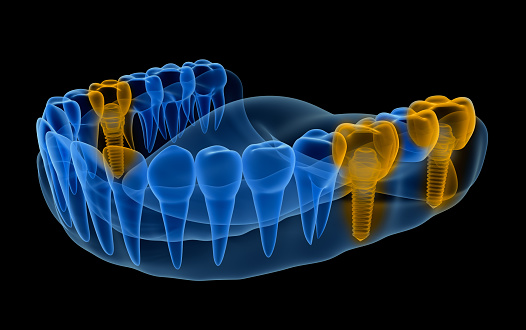 A common practice in restorative dentistry is to replace missing teeth. With today's technology and science, these restorations are not only possible but very common. While bridges and dentures have long been a way to patch together a smile, today there is a much better solution called dental implants.

Dental implants are the simplest to replace a single tooth, but those missing multiple teeth are still eligible for implants. Here at Riverwind Dental, we are proud to call ourselves experts in both single and multiple tooth implants.


What is an Implant?


A dental implant is an artificial tooth that bonds to your jawbone through a process called osseointegration. Dental implants have not only cosmetic benefits, they support a strong jaw and overall oral health.

When a tooth is missing, the jaw will deteriorate because there is no tooth to stimulate the jaw and tell the body to send nutrients. During implant surgery, your jaw is cut into and a titanium rod is applied to its interior. If the implant is successful and osseointegration happens, then this titanium rod will still stimulate your jaw and tell your body to once again strengthen the jaw area.

On top of the jaw, a crown is connected to the titanium rod through an abutment. This crown will be specially fabricated to fit perfectly between your other teeth to look completely natural. Because implants have both cosmetic and physiological benefits, they are an ideal choice to replace missing teeth.


Replacing Multiple Teeth


For those who have lost an individual tooth due to decay or trauma, an implant is a very simple procedure. If enough time has passed, and the jaw has severely deteriorated, a bone graft may be necessary to support the jaw and make the implant successful. However, for those missing multiple teeth, a bone graft may not be enough to support the jaw to receive the implant.

While a multiple tooth implant requires a more complicated surgery, we can help out. When multiple teeth are lost, the jawbone is often much more weakened, and unable to support several tooth replacements. Through the full-arch restoration, we can do implant surgeries replacing a full arch of teeth. The primary benefit of full-arch restoration is having a full set of teeth replaced in one surgery, shortening the healing process and overall cost of getting back a beautiful smile.

In a full arch restoration, we use four dental implants, strategically placed in the front and back of your mouth where there is the most jaw support. These implants will be placed at a 45-degree angle to maximize more bone mass. From there, we can implant several teeth at once without worrying as much about a weakened jawbone.

Full arch restoration has the same benefits in terms of supporting jaw health as a single tooth implant. They take about six months to fully heal. If you have more questions about full arch restorations, dental implants, or would like to set up a consultation, please reach out to us at Riverwind Dental by calling us at (804) 280-0853 today.