Single Tooth Implant

Richmond, VA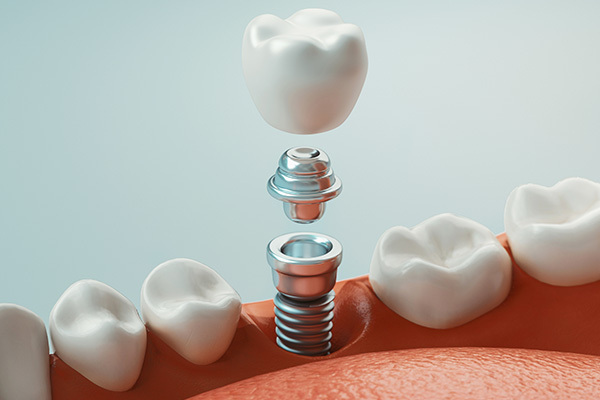 Accidents, injuries, or improper oral health care can result in the loss of a tooth. Depending on the location of this tooth, replacement may be desired or recommended. One method to replace a single missing tooth is to replace it with a dental implant restoration. The resulting substitute looks natural, becomes part of the jawbone, and lasts for a long period of time with good oral care. Our team at Riverwind Dental has extensive experience with dental implants, so call our office to schedule a consultation to see if you are a good candidate for a dental implant.


How Does the Single Tooth Replacement Procedure Work?

A foundation needs to be set to place the replacement tooth sturdily in your mouth, and a small titanium post will be attached to the jawline. This post has to sit in place for a few months to become a natural part of the jawline and fuse with the bone. In some cases, a part of this implant may have to be opened up again to get a proper foundation. Once the foundation is ready, a crown is attached to it. The crown will be made to look and feel like the rest of your teeth. Once this crown is attached, our team will provide you with instructions about how to care for your new dental implant.


Why Choose a Single Tooth Replacement?

A single tooth replacement uses the latest technology to make your new tooth look and feel exactly like your natural teeth. Those people who have bridges or choose to get bridges attached will find that the bridge is fixed using the help of the adjacent teeth. This means that added pressure is put onto the surrounding teeth. In the case of an implant, the new tooth stands alone and does not affect the other teeth. A single tooth replacement is also better for the sake of the bone. With a bridge, or with dentures, the bone could start to deteriorate over time. The gums could also begin to recede, giving the bridge an unpleasant look after a while. You will not have to face any of these problems if you opt for a dental implant. These implants can be kept clean easily, and they will look great even many years later. Many patients prefer an implant-retained crown because it is designed as a single tooth replacement fixed in the mouth without affecting surrounding teeth and lasts for a lifetime. Proper dental hygiene will keep the surrounding gums and teeth healthy. Dental implants are most similar to natural teeth and help prevent the jawbone from shrinking due to tooth loss.

Our professionals will make a final impression to create your crown, which will either be cemented or screwed to the abutment to secure it in place permanently. You can treat this new tooth like any other in your mouth, with regular brushing and flossing to keep the gums healthy. For more information, and to find out how you can benefit from single tooth replacement, call Riverwind Dental at (804) 280-0853 today. We also offer multiple tooth implants if you have more than one missing tooth.