Periodontal Maintenance

Richmond, VA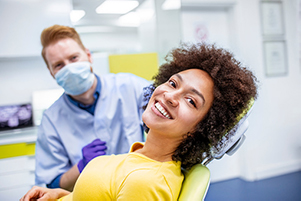 If you have a mild to an advanced form of gum disease, you require periodontal maintenance; visit us at Riverwind Dental for quality periodontal maintenance and services. The procedure cancels out all bacterial activity in your mouth and heals your gums.

The extent of periodontal maintenance depends on the state of your teeth and gums. Usually, mild to advanced forms of gum disease put your teeth and gums in a terrible condition; the teeth might grow shifty, and the gums swell up and bleed.
Our dental specialists examine the state of your teeth and gums before performing periodontal maintenance. This procedure is also important for finding other non-dental illnesses you might have.


What's the Importance of Periodontal Maintenance?

Mild to advanced forms of gum disease results in the formation of pockets along your gum line, and as more dental plaque and tartar gathers in your gums and teeth, it causes pain, inflammation, and infections.

Scaling and root planing is a big part of periodontal maintenance. Using advanced equipment, our dental specialists remove the dental plaque and tartar and flush out the infection-causing bacteria from your gum pockets.

To cement the effectiveness of periodontal maintenance, you may have to undergo dental restorations. Our dental specialists recommend the restorations depending on the state of your teeth and gums. For instance, if you have severe cavities and gum pockets, you may need dental implants or dentures.


The Procedure of Periodontal Maintenance

Periodontal maintenance is usually tailored to the needs of your teeth and gums. Our dental specialists usually perform this procedure in the following steps.


Dental History

Your dental history can give perspective to your current dental problems. Our dental specialists ask about previous dental problems and treatments so that they may be able to give you the best treatment.


The advanced stages of periodontal disease can increase your risk of heart disease and cancer. Cancer is easily treatable when detected early.


Teeth and Gum Examination

This is a close inspection of the state of your teeth and gums. Mild to advanced gum disease usually weakens both the teeth and gums. Various dental procedures may be necessary to restore the normal functioning of your teeth.


Scaling and Root Planing

Scaling and root planing is not the same as regular teeth cleaning. This procedure involves the use of powerful appliances to eliminate the dental plaque and tartar accumulating in your teeth and gums. This procedure is geared toward putting a stop to the bacterial activity in your teeth and gums, thus stopping pain and infection.


Fluoride Treatment

If you have severe cavities and gum pockets, there ought to be proactive measures to prevent a recurrence of the bacterial infection. And so, this treatment provides solid protection against bacteria for a couple of months.


How Often Should I Get Periodontal Maintenance?

If treated at the early stage, periodontal disease may be reversed, but most people discover they have it when it's too late, and the condition cannot be reversed. Periodontal maintenance is one of the best ways of managing this condition. How often you need periodontal maintenance and periodontal care may be affected by different factors, but our dental specialists recommend that you get it at least twice a year.

Periodontal disease can have serious implications for your oral health. Visit us at Riverwind Dental to manage the disease with periodontal maintenance. You can contact us through (804) 280-0853.